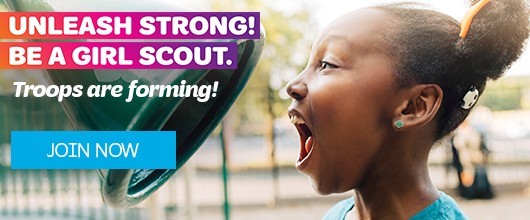 When you unleash your inner G.I.R.L., you can accomplish anything!
At Girl Scouts, the next opportunity to stand up, speak up, and take the lead is never far away. With us, you'll discover the G.I.R.L. (Go-getter, Innovator, Risk-Taker, Leader)™ in you, and watch her shine, again and again.
Will you find a sustainable solution to a problem in your community? Will you explore the great outdoors? Build a robot? Learn to code? Conduct an experiment?
With us, the possibilities are truly endless. Discover all you can be and everything you can accomplish when you have the right tools and a safe space to shine—and work together to change the world.
So what are you waiting for?

Already a member? Log in to renew.
Girl Scout Information Events
Do you know a girl who's interested in Girl Scouts? Bring her to a Girl Scout information event where she'll discover what it means to be a G.I.R.L. (Go-getter, Innovator, Risk-taker, Leader)™ and meet her future Girl Scout sisters.
Engagement Nights
Want to learn more about Girl Scouts? An Engagement Night is the place to be! At these events, you'll meet with other girls who want to become Girl Scouts, learn about what you can do through our programs, and have the opportunity to sign up and begin your adventure.
Troop Formation Events
Are you ready to become a Girl Scout? Come to one of these events! Prepare to join a troop that will support you as you explore your interests, practice your leadership skills, and experience all Girl Scouting has to offer. When you attend, you will meet girls who could become your troop, friends, and biggest cheerleaders!