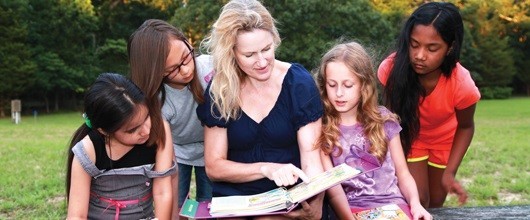 Recognize Volunteers
Do you know an adult volunteer who deserves recognition? 
Showing love and appreciation for our volunteers is a long-standing Girl Scout tradition. After all, our volunteers are Ah-mazing! 
Our volunteers are all about the girls and often work extra hours on top of full schedules and busy lives. We love them for it and, well, Girl Scouting wouldn't be the same without them. Let's be sure to shout it from the Girl Scout rooftops!
---
Be sure to click below to learn more about our volunteer recognitions and the 2019 recipients.
Official Girl Scout Awards

The following is a summary of the GSUSA and GSOH official adult awards. For more information or additional awards resources,contact us.


Volunteer of Excellence

This award recognizes volunteers who have contributed outstanding service while partnering directly with girls in any pathway to implement the Girl Scout Leadership Experience (GSLE) through the use of the National Program Portfolio or who have contributed outstanding service in support of the Council's mission delivery to girl and adult members. 

The Appreciation Pin

The Appreciation Pin recognizes an individual's exemplary service in support of delivering the GSLE within one geographic area of service. 

2019 Appreciation Pin Recipients Include:

Ashley Adair
Sarah Adams
Amy Blake
Mindy Bodenhorn
Stephanie Booth
Danielle Brotemarkle
Rosie Bumgardner
Irene Cameron
Kelly Jo Congrove
Sarah Corne
Margaret (Meg) Evans
Nicole Evans
Jodie Franklin
Christine Goodwin
Shannon Hemmelgarn
Misty Hollingshead
Lynn Kapple
Susan Keith
Nerissa Kennedy
Rosalie (Rose) Krietemeyer
Christine Lester
Nancy Lipscomb
Marilyn Magin
Jenny Montgomery
Christine Rentzcsh
Jody Rhymer
Cortney Rotz
Jessica Ryan
Joe Scott
Stacie Shaw
Marsha Shoffner
Ann Smith
Beth Smith
Mary-Beth Stanley
Michael Swift
Kelly Tamerlano
Laura Waltz
Sondra Ward
Janet Wastier
Cynthia Watiker
Linda Wood


The Honor Pin

The Honor Pin recognizes an individual's exemplary service in support of delivering the Girl Scout Leadership Experience (GSLE); this support has had measurable impact on two or more geographic areas of service to reach and surpass the mission-delivery goals of the council.

The 2019 Honor Pin Recipients Include:

Pamela (Pam) Bray
Lee Ann Clonch
Lorrie Croswell
Charlena (Char) Fisher
Christina Harris
Wendy Adams Hart
Jennifer Howland
Vickie Leffler
Becky Mann
Michelle Mathias
Teresa Myers
Dawn Needham
Julia Palmer
Cathy Parsons
Sandra (Sandy) Rayburn
Jerilyn Smith
Melissa Sull
Natalie Swider
Pari Swift
Donna Ward
Lynn Webb
Kari Williams

Thanks Badge

The Thanks Badge honors an individual whose ongoing commitment, leadership, and service have had an exceptional, measurable impact on meeting the mission-delivery goals and priorities of the entire council or the entire Girl Scout Movement. 

The 2019 Thanks Badge Recipients Include:

Donna Bosak
Kimberly Brady
Sheryl Cart
Beth Guthrie
Cathy Healy
Kimberly Murnieks
Joan Umland

Thanks Badge II

The Thanks Badge II honors a previous Thanks Badge award recipient who have continued to provide exemplary service in a leadership role which resulted in a measurable impact benefiting the entire Girl Scout Movement.

The 2019 Thanks Badge II Recipients Include:

Karen Chatfield
Tracey Reed
Rosie Robinson
Deb Seckel
Teri Varney

The President's Award

The President's Award recognizes the efforts of a service delivery team, committee whose exemplary service in support of delivering the Girl Scout Leadership Experience (GSLE) surpassed team goals and resulted in significant, measurable impact toward reaching the council's overall goals. 

The 2019 President's Awards were presented to :

Reynoldsburg

Shawnee Trail

Union