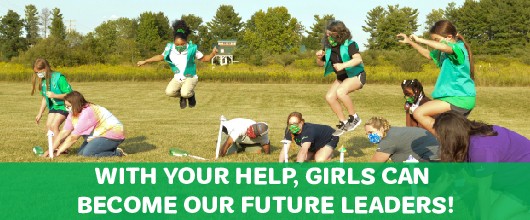 At Girl Scouts of Ohio's Heartland our girls, volunteers, family members and employees are of the utmost importance and we are committed to actions that maintain the health and well-being of our them and our community.
With the COVID-19 pandemic hitting central Ohio in midst of the 2020 Girl Scout Cookie Program, many troops are left with unsold cookies. While our girls and volunteers are looking for creative solutions to unload their inventory and take action in their communities, we know that there will be thousands of cookie packages that will be left due to these unforeseen circumstances. GSOH has ensured our troops that they will not incur the cost of these unsold cookies and are suggesting troops donate them to their local food pantries and local military organization. By donating these cookies, our girls will have an additional philanthropic learning opportunity amidst this pandemic and fulfill one of our Girl Scout promises to make the world a better place.
As the cookie program is affected, so are the futures of our Girl Scouts' experiences. At GSOH, the cookie program funds programs and services for our members, so having leftover cookies means there will be a severe financial impact for everyone. Summer camp, future programming, troop finances and scholarships for low-income Girl Scouts are all affected when cookies are left at the end of the season. You can help by supporting the Cookie Relief Fund and ensuring girls don't lose out on the fantastic experiences that the cookie program provides.
We are seeking community support from friends and business partners to donate to the Cookie Relief Fund, which will support the cost of the remaining Girl Scout Cookie inventory that will be donated in local communities. Your gifts will have a direct impact on our girls, volunteers, and the continued programs and support we can provide.
Please support the Cookie Relief Fund today! 





For your reference, a leftover case of cookies (12 packages) is a $60 expense for Girl Scouts of Ohio's Heartland. Due to the suspension of the cookie program, we estimate we will have 5,000 to 6,000 cases of cookies left this year. Here is how your support will impact our girls directly:  

$60, the cost of one case of cookies, will provide a girl a Girl Scout membership and uniform. 

$120, the cost of two cases of cookies, will provide a scholarship for a girl in need to attend day camp. 

$300, the cost of five cases of cookies, will fund the necessary training to onboard new troop leaders in fall 2020 and equip them with skills to lead a Girl Scout troop. 

$480, the cost of eight cases of cookies, will fund the expenses associated with hosting a science, technology, engineering and math (STEM) learning event for a group of 20 Girl Scouts.  

$1,020, the cost of 17 cases of cookies, provides scholarships for two girls to experience a week-long resident camp. 

$2,520, the cost of 42 cases of cookies, funds a five-week outreach program for 20 girls. Outreach programs aim to serve girls from underserved communities, who otherwise would not have the opportunity to join Girl Scouts.