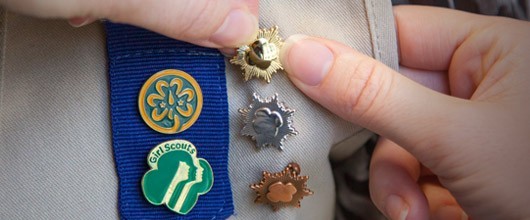 Highest Awards
Every Girl Scout goes above and beyond to make a difference in her community and the greater world. The skills and experiences she gains along the way set her up for special recognition through the Gold, Silver, and Bronze Awards.
All three awards give girls the chance to do big things while supporting issues they care about.
Recognizing that many schools, youth activities and community gatherings have been suspended, Girl Scouts of the USA has recommended that all councils extend Highest Awards deadlines to Dec. 31, 2020. Girl Scouts of Ohio's Heartland has accepted this recommendation and would like to provide additional information on how that impacts Highest Awards. Typically, this means a final report for Bronze, Silver and Gold Award projects would be due no later than Sept. 30, 2020. They are now due no later than Dec. 31, 2020.
This extension provides flexibility for Girl Scout Juniors, Cadettes, Seniors and Ambassadors earning Girl Scouts' Highest Awards. This announcement is particularly relevant for 5th grade Juniors, 8th grade Cadettes, and 12th grade Ambassadors who will bridge to the next program grade level officially on Sept. 30, 2020 and typically would be no longer eligible to earn the Bronze, Silver or Gold Award, respectively. Please see the individual award page for specifics on that award. If you have questions, please contact highestawards@gsoh.org.
As you earn one of Girl Scouts' highest awards, you'll change your corner of the world—and beyond. The possibilities are endless.